Suppose you have a cool but gigantic T-shirt. Moreover, you are a leggings lover. Now how can you pair up this two inverse-shaped attire? No idea? Let's get some stunning ideas on how to wear an oversized t-shirt with leggings?
Oversized T-shirts- A Wardrobe Staple
Oversized tees are generally longer than standard tees and usually have a wide neck, often with a mock turtleneck. Women typically wear them as casual or everyday clothing. The common fabrics of this garment are cotton, rayon, silk, or synthetic materials.
For those that enjoy wearing clothes with a bit of bagginess, there's a way to wear oversized clothes. From voluminous T-shirts to long gowns with slits on the side, there are many ways to wear oversized clothing.
4 Stunning Ways To Wear An Oversized T-Shirt With Leggings
When days are warm and you don't need to carry a jacket, it's then high time to style oversized tees with your fabulous laggings. Additionally, this is the hottest trend in summer. You can wear them in an array of ways, from a casual look to formal.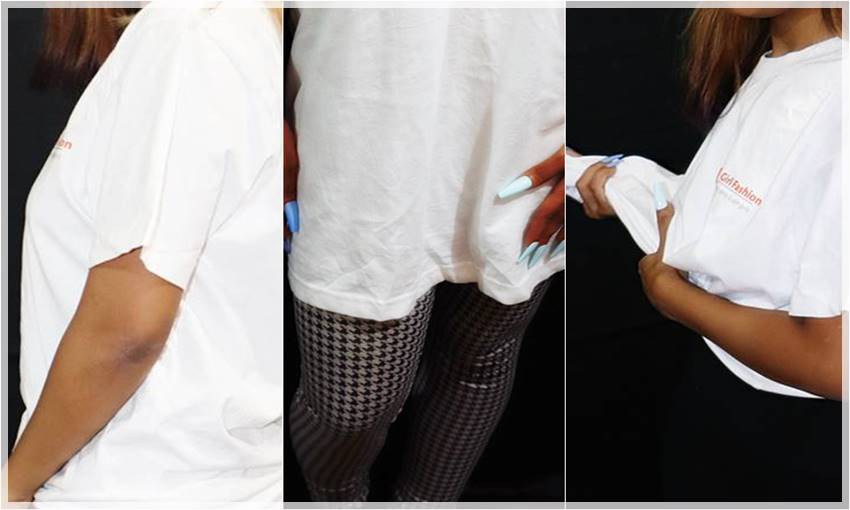 Among all types of oversized clothing, jumbo tees are a wardrobe staple for anyone looking to make a statement. But, if you're bored of the typical high-waisted trousers and opaque tights, take a step out of your comfort zone. Try it with some trendy leggings! Slip on a pair of oversized t-shirts to give your look a layered and comfy vibe.
Let's come to know four stunning ways to style an oversized tee with leggings.
One way is by wearing a pair of skinny leggings and a cardigan over the tee. You can do it in any color. This look is more casual and fun.
Another way would be to wear a crop top under the oversized tee. The advantage of this option is that it can also be worn for days when you don't want your stomach showing or you're trying to avoid wearing shorts.
Pair your favorite graphic jumbo tee with denim leggings. Along with adding some bold accessories like a statement necklace and sunglasses, you will look stunning. Finally, get ready to go outside with the best-suited sneakers.
In addition, a great way to wear an oversized tee with leggings is by wearing it as a dress. Just pair it with a cropped jacket and a statement necklace for the perfect look.
Scrumptious Pairing Like A Celeb
Tucking in an oversized shirt into leggings is an art to learn.
To do this, first, the shirt should be pulled over your head and then you need to fold it at the bottom of your waistband. Then put your hands on either side of the shirt and pull it towards you until it is tucked into your pants.
Some other innovative ways to tuck an oversized shirt into leggings would be:
Pull the shirt down and hold it in place with your hands on top of the fabric and then pull up on the bottom of the shirt as you slide your arms out of the sleeves.
Tuck one side in first, and then tuck in the other side by pulling from behind and around to one side.
Bring both sides together, either at or just below your waistline, and cross them over each other while holding onto both sides of the shirt with one hand so that they stay together.
What Jewelries Goes with Oversized T-Shirts?
Though it depends on your personal preference, we only provide some recommendations that celebrities wear.
Jewelry with a metal base is best for wearing with oversized T-shirts.
The most popular metal types that go well with these styles are gold, silver, and platinum. These metals can be combined in many different ways to create something unique for you.
Think About Right Pair Of Footwear Too!
Finally, it comes to discuss the right pair of footwear that suits most with oversized tees and leggings.
If you are going for a chic look like your fav celebs, the best option would be high heels and an ankle strap. This will help create a feminine silhouette that balances out the oversized t-shirt and leggings combination.
Another option would be flats or wedge sandals. These shoes will also help create balance in your outfit as they have a more slimming effect on your legs than high heels do.
Also read: How To Wear A Baggy Shirt With Skinny Jeans?
FAQs
Here are some frequently asked questions about How To Wear An Oversized T Shirt With Leggings and associated topics. If you are in rush, then just go through this part to get the answers rapidly.
Is it better to wear a long-sleeved top or a short-sleeved top over a pair of leggings?
It is a personal preference whether you would like to wear a long-sleeved top or a short-sleeved top over your leggings. However, if you want to be more stylish and dress up, then wearing the long-sleeved top over the leggings will give you that fashionable and cute look.
How do I find the perfect denim shorts online?
The best way to find the perfect denim shorts is by going through reviews of other customers who usually purchase them. You can also ask your friends and family if they know someone who has bought these shorts before.
Finally, you can go through all the different brands that sell denim shorts on Amazon and see which one has the most positive reviews.
Are sweatpants and joggers the same?
There are many types of joggers, some with pockets and others without. There are also different colors and designs.
Sweatpants typically come in more than one color, are made from a thin fabric that does not hold up well to repeat washing, have wide legs, and often have a drawstring waistband for comfort.
The main difference between the two is that sweatpants can be worn by both men and women while joggers are usually worn by men.
Why do some girls half-tuck their shirts?
Some girls half-tuck their shirts to keep them from showing cleavage. This is usually done with a tight top that fits well, such as a tank top or t-shirt. Half-tucking allows the shirt to still fit tightly around the waist and chest area while still being able to show some skin.
This can be achieved by doing one of two things: pulling up the front part of the shirt (above the belly button) or folding it in half over itself.
Some people may do this because they want to cover up some skin while others do it because they feel more comfortable when their stomach isn't visible under their clothes.
How can I style plus-size sequins?
When you are trying to style plus-size sequins, there are a few things that you should keep in mind.
The first thing is that the size of the sequin fabric and your head size will determine how much length you will need for your hair.
Second thing is that if you have a smaller head, then try to choose colors with less contrast between them because they won't be as noticeable on your hair.
Lastly, if you want a more elegant look, then try using silk instead of cotton so it can hang better and more elegantly around your neck.
How do I style my blazer?
There are many ways to style a blazer. But the easiest way is to fold it in half and put it on like a shirt. Then take your jacket off and iron it. This will ensure that the blazer doesn't wrinkle. To have more practical ideas, you can watch this video.
What is best about a denim jacket?
Denim jackets are a must-have for any wardrobe. One can dress up them for any occasion as they come in a variety of colors, styles, and cuts. There are many benefits of denim jackets:
It keeps you warm when the weather is cold.
Denim jackets look good with almost anything from jeans to khakis to formal wear.
You can easily find it at most online shops like Amazon.
What style is a mini skirt?
A mini skirt is a type of skirt that has a hemline or waistband below the hips. It is shorter than a maxi skirt and longer than a micro-mini skirt.
Ultimate Statement
There are some looks that only work when paired with a long, flowing t-shirt. But what if you don't have one? Well, it turns out there are a few ways to incorporate an oversized shirt into your wardrobe without having to buy a new one.
The best thing about oversized t-shirts is that they are super comfortable. Not only can you wear them with a pair of leggings, but you can also wear them over skirts and dresses for a more casual look. Ultimately it comes down to what you think looks best for your body type and what you feel most comfortable in.
Hope this article gives you some tips to wear an oversized t-shirt with leggings. If you can utilize these tips to look cool wearing the outfit idea then must let us know in the comment box. Do not forget to add any insightful thoughts about fashion trends. Best wishes.