Worried about good bra fitting? Or maybe you overthink for a right bra that makes you look smaller or expose your larger breast small.
No worries! We are here to help you. As we have compiled a guide with hacks on how to curtail the bust size through some specific undergarments. Let's begin to discover those.
The bra called the minimizer bra. It's been a hot topic on fashion websites. But is it really worth wearing? We will be answering this question throughout the article.
Minimizer Bra: How to Make Your Boobs Look Smaller
A minimizer bra is a type of undergarment that flattens the breasts to help make them appear smaller. They are typically made from stretchy material and have a front closure, often with silicone grippers to prevent slipping.
Usage Benefits
There are many reasons to put on a bra that can compress, elongate, and minimize your breasts. Some certain benefits of wearing a minimizer bra are:
Minimizer bra helps reduce back pain caused by large breasts.
It can be worn under clothing to give the appearance of being smaller or more toned down.
This type of bra helps to reduce cleavage area in certain outfits.
They reduce back fat by lifting your breasts to where they should be.
They support your breasts so they don't sag or move around too much while you wear them.
Moreover, A good minimizer bra offers more shape to your bustline than regular bras do.
Key Traits
Minimizers are different from regular bras because they have smaller cups and less padding to reduce breast volume.
Some designs include gel pads in the bottom or side seams to provide additional support.
Breathable fabrics that allow air circulation and sweat evaporation so skin stays dry and comfortable.
Soft cups that won't dig into the skin.
Removable padding for light support without reducing cup size too much.
Minimizers come in many different styles and materials. But they all serve the same purpose: to reduce the size of breasts while still maintaining their shape.
Do Minimizer Bras Really Work?
Yes. Indeed. A minimizer bra reduces the appearance of the size of bigger boobs. But, how it works? Let's delve into the features.
The technique of using a minimizer bra to redistribute the breast tissue and reduce its size is all about fitting and shaping. A minimizer bra can reduce your bust by a full cup size or about two inches. Furthermore, the minimizer bra does not add any extra push-up padding to your bust, and instead, these bras are lightly padded and unlined to do nothing but reduce the size of your breasts.
This minimizing supportive bra provides extra lift and shaping to smaller breasts. This type of bra has built-in padding that cups the breasts from underneath and supports them from the outside. It also helps provide a smoother shape for larger breasts.
This type of bra works by providing a firmer structure around the breast tissue, which then pushes up and shapes them into smaller cups. The bras are also designed with narrow straps so they can help reduce any sagging in the upper back or shoulders due to weight gain.
Who Makes the Best Minimizer Bra?
Underwired bras are designed to lift and separate the breasts while minimizing the appearance of breast tissue. They can be found in a variety of sizes, shapes, and styles.
Cleo by Panache offers many different styles of minimizer bras that can help you achieve your desired look. Their wide range includes seamless lace-trimmed bras for everyday wear, as well as t-shirt bras for those days when you just want to feel like yourself.
Curvy Kate offers a variety of minimizer bra styles including sports bras and maternity bras that have an underwire shape with a low center gore. The company also has some great customer service options for those who need help finding their perfect size or fit!
Some Other Brassiere To Reduce Bust Size Instantly
There are many brands that sell minimizer bras. You can also find them online for purchase. Some other brassiere brands include:
Elomi – Their bra offers a slimming effect with moderate compression and no padding.
Curvy Kate – They offer padded cups that provide uplift and full support without adding bulkiness.
Fantasie – They offer an open cup design with medium-to-high levels of compression. So, they will not reduce your bust size much but they still provide support and shape.
Must-Know Hacks While Wearing A Minimizer Bra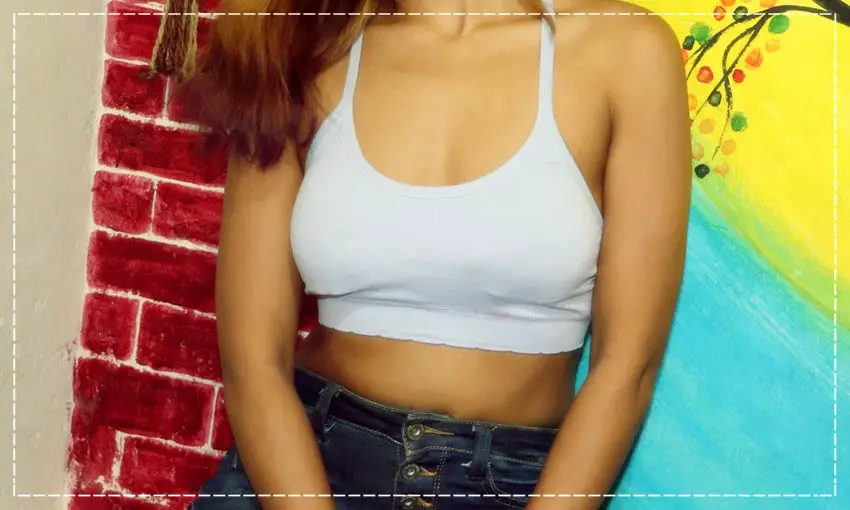 Minimizer bras can be a great way to get the most out of your workout. But there are some hacks you can use that will help you get even more from them.
The most important thing to remember when wearing a minimizer bra is that you should wear it properly. You should always make sure that the band of your bra is at the level of your natural bustline, and then adjust the straps. As a result, they are snug but not tight. This will ensure that the chest area of your outfit looks its best while still maintaining comfort.
Another tip for wearing a minimizer bra is to choose one with a front closure instead of back closures. Because they are easier to put on and take off. It also allows you to adjust the fit more easily if needed without having to undo any zippers or hooks.
Some women may experience discomfort while wearing a minimizer bra if they are not wearing the right size. The straps should be wide enough to support your breasts, but narrow enough to provide comfort and avoid irritation.
Wear a minimizer bra under your sports bra during exercise. Consequently, it will provide enough support to prevent spillage and show off your best assets.
In addition, a well-fit minimizer bra may also help improve your posture and prevent back pain. So, as long as you are wearing them correctly, they will definitely make you feel comfortable. To learn more about bra hacks practically, you can watch this video.
Also read: Does Sports Bra Reduce Breast Size?
FAQs
We also include some informative FAQ and their answers. Also, go through them. You might find this portion helpful too.
Which lingerie is best for the Minimizer?
The best lingerie for minimizer is a seamless bra that has thin straps and no padding.
Is a cotton blend bra best for daily use?
Yes, a cotton blend bra is the best choice for daily use. The benefits of wearing a cotton bra are that it will feel soft and breathable on your skin.
Cotton bras can also help to maintain an even temperature throughout the day and will prevent you from feeling too hot or too cold as well as minimize any chafing. Some manufacturers of cotton blend everyday bras are Hanes, Calvin Klein, Fruit of the Loom, Warner's, etc.
What is the best strapless bra for saggy breasts?
The best strapless bra for saggy breasts is a non-underwire bra that provides shape and extra support. The best ones are designed with removable padding in the cups and straps to create a natural appearance while providing extra lift.
An excellent example of this is the Triumph Strapless Non-Underwire Bra. This wire-free bra offers two styles, including one with adjustable wide straps and one without. It also comes in multiple colors and patterns. So, you can find your perfect match!
Does full coverage bra show cleavage?
No, A full-coverage bra is a bra that covers the entire breast. It is used to prevent breasts from showing too much cleavage.
How do I measure my bra size for a Vanity Fair bra?
The first thing you need to do is measure your band size. For a Vanity Fair bra, the measurement for the band size is 32 inches. Next, you will need to measure your cup size. For a Vanity Fair bra, the measurement for the cup size is 36 dd.
End Speech
In summary, plenty of women still considers the need for covering up their chests in public places. If you are a woman who has a large breast size and keens on some types of undergarments that can help make your breasts look smaller, then you can consider wearing any type of minimizing bra.
However, every woman deserves to wear bras that make them feel fabulous and it starts with finding the right one for you. A minimizer bra is perfect for those who want to minimize the appearance of their bust and want a more proportionate and balanced silhouette.
Let us know through email if you try on many types of minimiser bras and find the one that you like most. We've already narrated which style will be perfect for your unique figure, but keep in mind that an undergarment or lingerie set is a matter of your own preference rather than others' suggestions. Hence, at the end of the day, you ought to prioritize your own comfort and purchase accordingly.
About Author