When you have a wardrobe full of T-shirts that are excess big, it's hard to find a piece that doesn't crash. You may think how to wear T shirts artistically that are too big.
So what do you do?
Well, if you want to get rid of this confusion once and for all, we recommend looking at the 7 most creative as well as unique ways on how to wear T-shirts that are too big.
We hope you will enjoy reading today's post. Let's jump right in.
How To Style Oversized Graphic Tees?
Wearing oversized graphic t-shirts can be a smart option for those who want to show off their less-defined shoulder and waist areas. The best way to style oversized graphic tees is by layering them.
Layering the tee will make it look more professional. Plus, give you the option of wearing it in different ways. For example, wearing a shirt underneath or simply with a pair of jeans.
Here are some layering options:
1. Layered look– Pair your oversized graphic tee with a fitted black top for an understated, sleek appearance.
2. Casual look– Wear your graphic tee as a cool alternative to your everyday casual outfit, pair it with distressed denim and sneakers for a laid-back but trendy vibe.
3. Workout look– Add some athletic flair to your ensemble by pairing your graphic tee with high-waisted workout pants and trainers for an effortless yet fashionable best fit.
7 Fun Ways To Style Any Oversized T-Shirts
Oversized T-shirts are the new summer staple. For good reason obviously.
These tees can be worn as casual tops, as partywear, or as a laid-back alternative to a classic blazer. A range of fun creative ways are there to wear your favorite style at a fraction of the cost of a designer label.
Take a look at 7 ways to wear an oversized t-shirt in fashionable manners.
1# Tie a Knot
Let's pretend you have some oversized t-shirts lying around and they are starting to look messy. Instead of throwing them away, what about tieing them up or baring your arms with a handkerchief? Trust me – this is not something that will turn any girl off!
In addition, this is a great way to add some personality to your look. Even if you are a fun-loving girl, this style suits you too.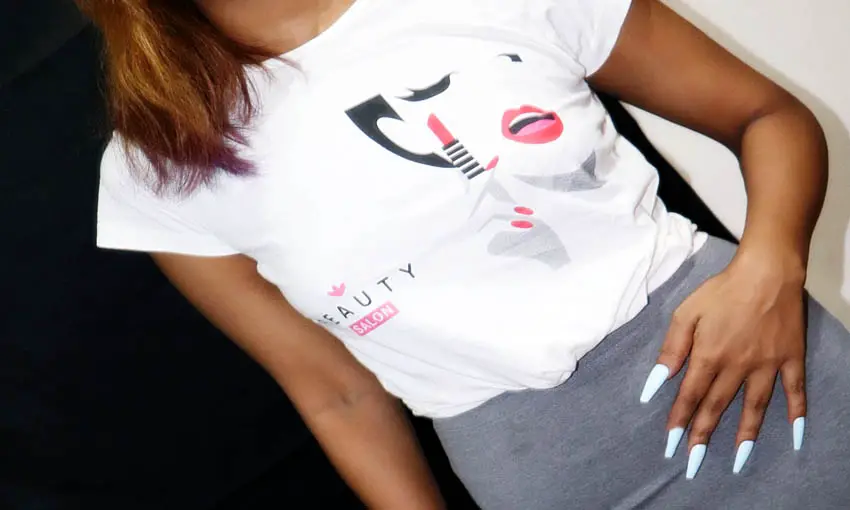 2# Shrug It Off
This one is a bit more subtle, but still extremely effective. If you have a few oversized t-shirts lying around, why not try wearing them like an overcoat? With this style, you will look like a trendy hipster (whatever that is) without having to go through the trouble of buying or making your own.
This one also works well for cooler summer nights when wearing t-shirts can be too hot. Also, work this look with jeans instead.
3# Sticking With Jeans
Take your oversized tee one step further by sticking with jeans or jeggings that tie around the waist. If you are looking for ways to incorporate some fun fashion choices with your oversized t-shirt theme, consider hats. A baseball cap will introduce an element of sports alongside the icky factor of oversized shirts.
Additionally, there is nothing wrong with wearing a simple baseball cap. You can do it when you have an option to stylishly slip into your favorite top. The hats just add another fun component to this look. When done right, the illusion will be greatly enhanced. It won't ick anyone off.
4# Making Workplace Appearances
Sometimes, it is best to avoid going overdressed at work by using a simple drop-shoulder top and jacket or even tank top underneath your oversized T-shirts. If you have a business casual workplace ick factor, this is a solid way to dress down your look without looking like you just came back from the gym.
Plus, This will also work well if it's not easy for you to put on coats and dresses during the colder months. This style may even distract others into thinking that icky shirts don't bother you because your look is so lovely.
5# Layer It Up With Shirts And Tops
Layer it up with shirts and tops for added style points. Bigger t-shirts do not always work as badly as they first appear. Instead, just find a way to enhance your look with some dainty accessories such as scarves and jackets. It's important to make sure you wear all of the appropriate tops underneath your top because extra bulk on items like coats can ick people off. Switch up your look and you will find it focusing on great style instead of the icky factor of oversized tops.
6# Accessorizing Correctly
Personalize the outsize top by accessorizing it correctly to hide your jumbo tees. Enlighten with accessories involves two simple steps. First, to accessorize correctly, think about the top's style and what you'd like it to focus on. This way, you can find a great match for it within your own closet.
The next step is mixing things up so look flattering. For example, it's okay to wear bracelets and earrings. This can help your overall look feel daring plus unique instead of the same old boring business casual outfits you see all around town.
7# Enhancing Your Style With Color
To style a colorful oversized t-shirt, firstly decide what type of shirt it is.
If it is a graphic tee, then use bright colors like red, green, blue, and purple to get the best out of this tee. This will create a perfect contrast with the black color of the shirt. If it is just plain white or other neutral colors then these can be combined with shades of brown or black for better styling options.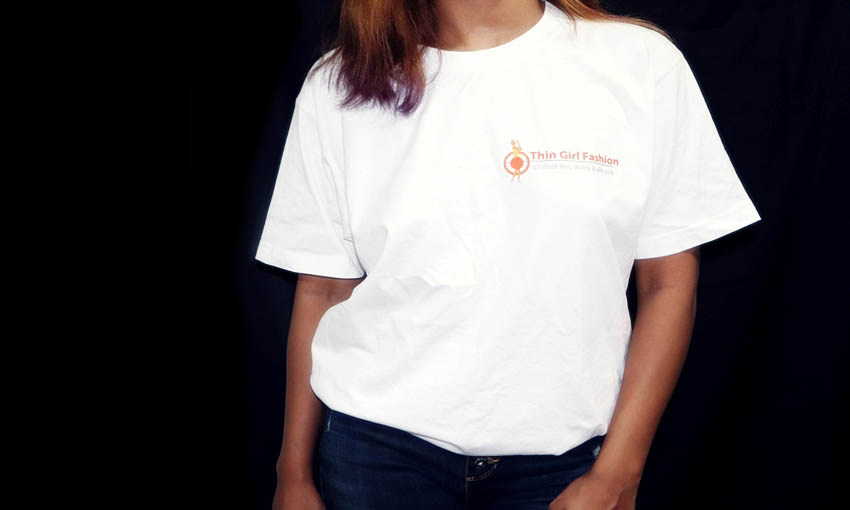 The outfit should be kept simple by pairing the oversized t-shirt with either jeans or shorts depending on your preference and keeping accessories to a minimum in order to avoid clashing colors.
Bonus Tips To Wear T Shirts That Are Too Big
You could also try wearing a cardigan over your t-shirt or using an undershirt with straps attached to each shoulder. Hold your arms back. Allow them access only through certain holes in the top of the cardigan which keeps everything hidden from view.
Pull the sleeves up to your elbows, then fold them back down so that they cover your wrists.
Make a square out of the top of the shirt by folding it over once, with one side being longer than the other. Keep this square tucked in at all times so that it's not visible.
If you have long hair, tie it up in a bun or ponytail and secure it with a rubber band so that it doesn't fall out while you're wearing your shirt with its sleeves pulled up and hidden underneath.
Another example could be if you can wear them over a dress or shirt to make it look like one piece. You can also layer the t-shirt over another shirt or under a sweater for warmth.
Another great idea is to wear it open over a pair of skinny jeans or leggings for an even more casual look. It is perfect for days when you don't want to wear anything too heavy but still want some style.
Also read: 6 Genius Ideas On How To Wear T-Shirts With Skirts
FAQs
Go through some frequently asked questions' answers as well. In this segment, you will know more outfit ideas and insightful advice related to the topic of how to wear t-shirts that are too big.
What is the length of a big shirt?
A shirt is measured by the unit of an inch that it has from the bottom of the collar to the hem.
The length of a shirt can vary depending on its design and fabric. A basic, standard-sized shirt will have a length of about 25 inches while some shirts may be longer or shorter than this size.
Can I style big tees by creating an armhole?
Yes, You can. To style a big tee, you can create an armhole by folding the top of the tee in half and sewing it. This will give your shirt a more tailored look.
How do I hem on a sewing machine?
To hem on a sewing machine, you first need to determine the type of stitch that you want. There are many types of stitches like zigzag, straight stitch, and decorative stitch.
Next, set your needle to the appropriate size for the type of stitch that you want to use. For example, if you're using a straight stitch then set your needle size to 3 or 4.
Afterward, if your machine's needle is in place, select the proper presser foot for what type of fabric you are working with and put it on the machine's sewing plate.
Next, take one thread from your bobbin and insert it into the appropriate eyelet on the presser foot so that it feeds evenly onto your work surface.
Now start stitching at a slow speed but keep an even tension on both threads until they reach the endpoint where they should meet up with each other. Then, sew together in a loop before moving back down towards their starting point again.
Can I find a side seam in a new shirt?
Yes, you can find the side seam of a new shirt.
The side seam is found on the sides of a shirt and is parallel to the bottom hemline. The side seams should be located on both sides of the shirt for it to fit properly.
Are trousers paired well with oversized tees?
It depends on the design of the trousers and the style of the oversized tee. For example, if you are wearing a slim-fit pair of trousers that are paired with an oversized print shirt, then it would be best to wear them separately.
If you are wearing a classic pair of khakis with a graphic tee, then they will look amazing together because they complement each other in terms of color and style.
Can I bring a chic look wearing a stylish crop top?
A chic look is a term that refers to an elegant and sophisticated style. It can be achieved by wearing anything from a dress to a top or even trousers.
Crop tops are trendy but not suitable for every occasion, especially if you want to maintain your classy look. You should avoid wearing crop tops when going out in public because they expose your stomach and back which can make you appear too revealing and inappropriate for the event.
Can I transform my old shirt by using lace?
Lace is a thin thread of nylon or other material that is usually used to decorate fabric, hair, etc.
You can use lace to transform your old shirt by adding it in different ways. You can do so by using ribbons, string, buttons, or any other accessory you have at hand.
Endnote
In recent times, oversized shirts have been seen on countless celebrities and fashion models, from Beyonce to Kendall Jenner, and for good reason. Oversized shirts go great with almost any outfit, from shorts to a mini skirt, and can be tied up in a knot, put into a high ponytail, or otherwise styled in a way that adds a whole new level of originality to one's wardrobe.
Moreover, We always tend to dress our best, but it is time to stop putting ourselves in a box. Oversized t-shirts are perfect for breaking out your monotonous appearance and taking the look to the next level. Who said you need to wear them on top of your regular shirt? Try on a cool pair of jeans and strap on a long necklace. Then tie your oversized shirt around your waist. That's it. Enjoy!